(PCM) What began as an innocent tweet by a man named Bradley Reid Byrd asking why a Cracker Barrel restaurant fired his wife after 11 dedicated years of service has now morphed into a hilarious internet trolling war with tons of internet users showing their support and demanding #justiceforbradswife! Poor Brad was simply looking for answers as to why his wife was let go from her position and it just so happened that she was fired on his birthday of all days. Cracker Barrel did not respond to Brad's tweet, but the internet sure did and now they are posting hundreds of reasons why Brad's wife should have never been fired in the first place. Digging underneath all the sarcastic commentary and quips a Cracker Barrel manager did respond to the situation making a statement proclaiming that Brad's wife was just not a good fit for the company any longer. According to
Facebook
user, Michelle Bowman Neuhauser, "Bradley Reid Byrd's wife, Nanette, worked at the Corydon, Indiana Cracker Barrel for 11 years, was fired by a district manager named Gwen Alexander. Reason given was, "She wasn't working out." She's an older woman whom coworkers/customers say was hardworking, averaged 50-60 hrs a week. Since CB wouldn't give Brad and Nanette an answer, he posted his question on their FB page" You know the folks on the internet can solve just about every mystery, so they are speculating that it was very young manager that fired Brad's wife and that it may be a case of age discrimination, as Brad's wife is assumed to be much older. Each and every time that Cracker Barrel's social media team posts something new, their comments section is flooded with clever responses that urge them to pursue some kind of #justiceforbradwife!  She certainly deserves it at this point and we are sure the Cracker Barrel REALLY, REALLY regrets firing her at this point. Some of the best social media responses can be found below: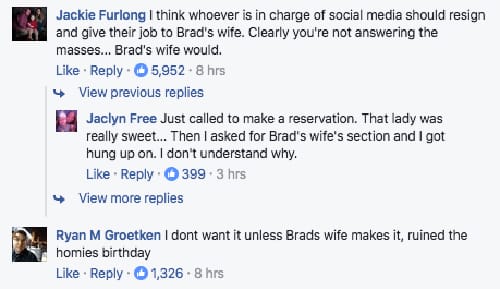 Someone even started a Change.org petition urging Cracker Barrel to explain the termination of #BradsWife! The petition has already reached over 20,000 signatures and continues to grow. It has been delivered to Cracker Barrels corporate office! Don't worry Brad's wife … Brad and the internet love you even if Cracker Barrel doesn't!
Facebook Notice for EU! You need to login to view and post FB Comments!